INCLUDE ("/www/virthost/www.evelectricity.com/html/includes/menu.php"); ?>


Living Electric

If you are visiting this web site you are probably investigating the possibility of driving an electric car. Our family of four nearly fulfills all of our transportation needs using our two electric cars. This page will offer a snapshot of how we manage our transportation needs using our two electric vehicles.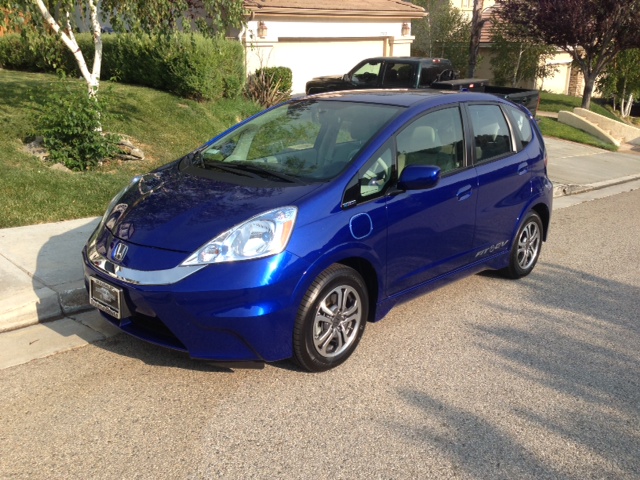 Our 2013 Honda Fit EV

Our family is four strong, with husband (me), wife, daughter 10, and son 16. We live at one end of the Santa Clarita Valley and frequently cross the town that is about 10 miles long to reach work, school, doctor's, and shopping. My wife also home school's my daughter and frequently drives her to classes on the other side of town. My son attends College of the Canyons so he is across town on a daily basis. We also frequently visit the beach during he summer, and visit family in Thousand Oaks, a city located about 40 miles away.

Our vehicle inventory:
Honda Fit EV 2013
Newest car in our fleet. This is an all electric battery plug in that can drive about 80 miles on a single charge. We leased this for $259 a month +tax and licensing for three years. The lease included all maintenance, and property insurance, but we needed to purchase liability insurance. The car came with an electric charging station that we get to keep after the conclusion of the lease. We also were given a $2500 California rebate for purchasing the car.

Chevrolet Volt 2013
Electric car that includes a range extender that activates when the battery runs low. We purchased this car in December 2012. We have a 5 year zero percent loan for the car. After tax credits, and state rebate we paid about $30,000 for the car.

Toyota Highland 2008
This was our former family car until recently. Now the car sits by the curb and doesn't move anymore. We use to put 15,000 miles a year on it, most of it driving around town.

Toyota Pickup 1987
This is our beater truck that we use for transporting items. The truck is driven 100-200 miles a year and really isn't used all that much.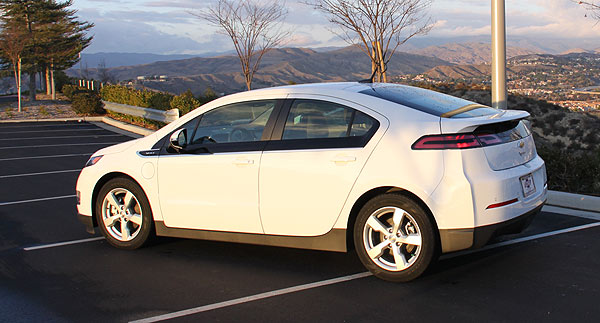 Our 2013 Chevrolet Volt

Our story began in November when I needed a commuter car for going between home and work, a round trip distance of 20 miles. My Chevrolet Prizm had almost 200,000 miles on the odometer and it needed some work. Both driver's and passenger doors were broken and it leaked oil along with some other clear liquid. I decided that I did not want to put anymore money into the car. I also occasionally drive further than 20 miles, perhaps 90 miles. I was eyeing a Toyota Rav4 with a V6 as I had hoped to use it for occasional towing. However, I could not make a commitment to commuting across town in a gas guzzler for the occasional ability to tow. I was at the Los Angeles Auto Show and I was intrigued by the electric cars displayed, especially the Chevrolet Volt. The Volt is an electric car that goes for 40 miles on a charge. When the battery runs out a gas generator turns on to provide power to the Volt's electric motors.

My expectations were exceeded as I discovered that nearly all my driving was accomplished without firing up the gasoline engine. After a few months we found the Volt became our primary family car. It was cheap to operate and a blast to drive. While an across town trip in our Highlander burned up $5 in gasoline, the same trip in our Volt was around 70 cents. We found that our gasoline bill was cut in half by using the Volt. By May we started questioning the wisdom of keeping our Highlander. After penciling out our driving statistics we discovered that if we parked our Toyota Highlander, that the allocated gasoline cost would pay the lease on an electric vehicle. In June we pulled the trigger and leased our Honda Fit EV.

Our typical day begins when I depart at 7:15am for work across town. I begin by preheating the Volt using my iPhone to warm up the cabin before I leave in the morning. This is not necessary, but a nice feature as it makes the car comfortable before departing on cool mornings. It also conserves the battery as it will feed the car using grid electricity while it is plugged in. The car drives like any other car, except there is no gas engine noise. Taking off from red lights is a breeze as the car has considerable torque that puts it in the lead ahead of every other car. I found the Volt cut a few minutes off my formerly 20 minute commute as I am able to get though the signals faster. The car is parked at the office for the day. When I return home I plug the car into the electric charging station. While it plugged in, the car will not begin charging until 9pm. This is when the electrical rates drop and waiting allows for the lowest cost charge. While I can override the charge time, I have found that I rarely need to do this as there is usually enough capacity remaining for evening errands.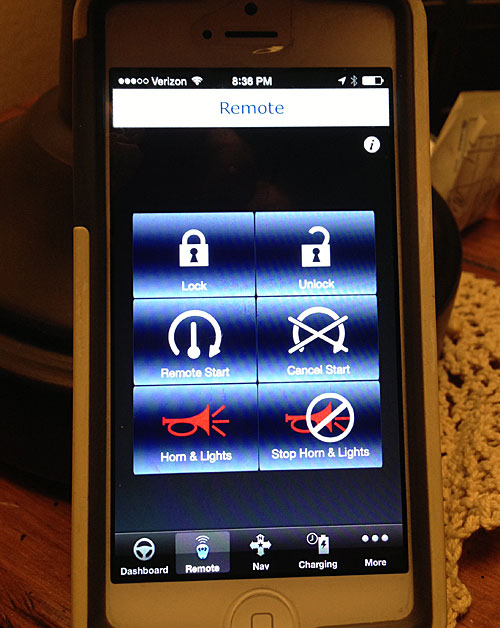 The Chevrolet Volt has a smart phone application that allows the owner to preheat or precool the car prior to use. It also allows you to check the charge status too.

My wife will drive her electric Fit many more miles than I drive the Volt. A few days a week she may drive three or four round trips across town driving or picking up the kids at school, shopping, doctor's appointments and so on. Sometimes my son will drive himself, but often my wife has something else she needs to do so she will work in shuttling him to and from college. The Fit is good for four round trips across town, but she will charge up between visits at home. One hour of charging will add about 25 miles of range.

In our garage we have two charge stations. One is connected to a dedicated electric car meter, and the other is connected to the general house meter. Typically, we charge the Volt off the dedicated meter that offers low cost charging from 9pm until noon the following day. The higher powered, faster charge charger for the Fit is wired into the house meter to allow for all day charging if needed. We have solar on the house and as a result we have surplus power credits that we use to charge the car.

Since the Fit lease allows for unlimited mileage we use this for pretty much everything. That does include some longer trips that test the car's range. I have included a map of some of our regular destinations.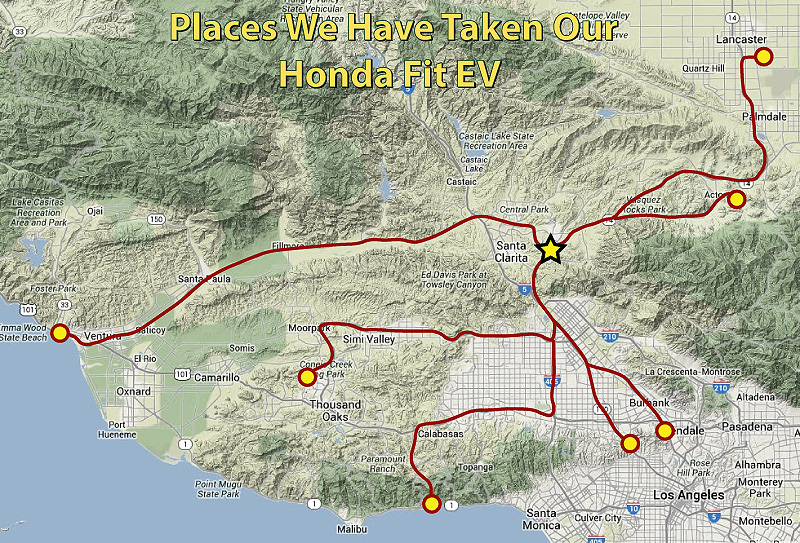 Places we have taken our Fit EV. Our home is marked by the star, and the circles indicate our destinations. We have never run out of power, but I have gotten close with three miles of range remaining. Word from other owners is zero means five more miles.

A few times a month we take the car to Ventura Beach for some fishing. The drive will exhaust about 70% of the battery, but the City is aggressive with installing charge stations within its boundaries. These low cost stations run .50 an hour and we can top off the car in about 2.5 hours. We have taken the Fit to Lancaster, but the city is just on the border of its range. Lucky for us there are several free charge stations around the Valley and a 25 minute top off is all that is needed to guarantee making it home for the return trip. We have taken the car roundtrip to the Hollywood Bowl without problem as well as Glendale where we leased the car from the Honda Dealer. We have family that lives in Thousand Oaks and a home made dryer adapter ensures we can fully charge the car using our 240 volt charger.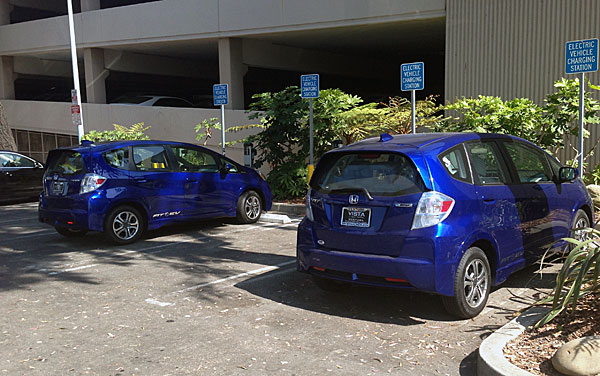 Ventura is a progressive city with plenty of electric vehicle charging stations spread throughout the city. Here we found another Fit charging with ours.

While the Fit is an economical car to operate, it suffers in comfort. The car drives like an overpowered golf cart. It is a fast little car, feeling like an amusement park ride. The ride is bouncy, and not very comfortable for occupants in the back seat. However, the kids acknowledge that its cheapness to drive allows us to visit the beach more than we would otherwise. How much does it cost to drive this car to the beach. The Toyota Highlander burned about $25 in gasoline during a round trip, plus another $10 for parking. The Fit uses about $3.50 in electricity and there are no parking fees as the charging station is outside the paid parking lot. Gasoline car was $35, electric car $3.50. There is no comparison.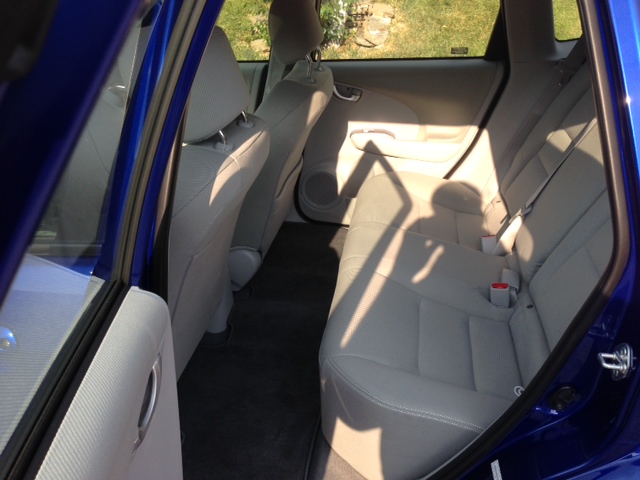 Backseat of the Fit EV offers plenty of legroom, but the car rides bouncy.

One of the best parts of electrifying our lives has been the low operating cost. We use to visit the gas station once a week with both our former gasoline cars. Now we visit perhaps once every two months with the Volt and that is it. During October 2012 we spent about $400 in gasoline. This October our cost for electricity and some gas for the Volt will be around $30. For that low cost we are driving about 1700 miles for the month.

Take the Electric Car Pledge